Outside of the total # of people who give each month/year, the Pastor and Finance Team want to know how many givers are being added and how many givers are being lost – along with the dollar impact. Additionally, they want to know how many are consistently supporting the ministry and at what levels. Finally, they want to know if people are growing in the Grace of Giving.
All these and more can be answered in the Giving Profile Summary Analysis. See the template below.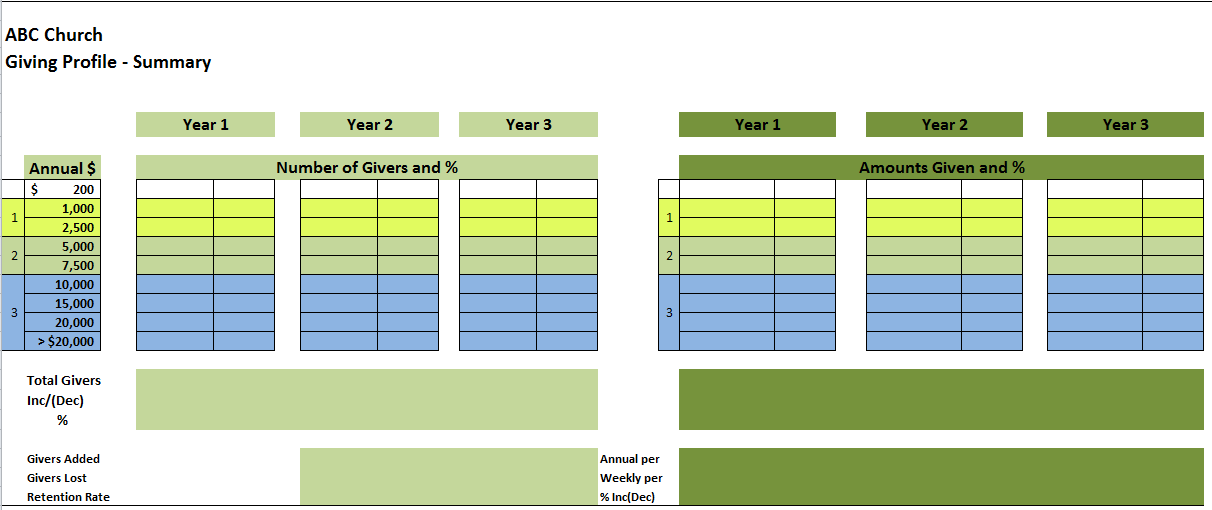 This Profile Summary provides you with a snapshot of your entire giving base across three primary giving bands. The left half showing the number of givers with the right half showing the amounts.
Giving Band 1 represents Developing Givers
Giving Band 2 represents the Core Giving Group
Giving Band 3 represents the Financial Leaders Group
In addition to the above summary, there are supporting details…
The analysis provides details by Giver ID # and amount for each giving band and level. Lists are provided for new and lost givers, as well as for those who significantly increased or decreased their giving.
These details are provided in a separate report along with the Profile Summary.
Benefits of the Giving Profile Analysis DETAIL –
#1 Use the data to get financial leaders involved in ministry thru a personal invite.
#2 Use the data to develop relationships with high capacity givers. They often are lonely, require more information about your ministry and they want to know how they can help.
#3 Use the data to retain more givers (and dollars for ministry) by using as a shepherding tool to those who have stopped or significantly decreased their giving BEFORE they leave altogether.
#4 Use the data to review givers that left the church to ask them why they left – in order to learn and improve.
Lastly, I'll include a list of possible actions your church can take to increase generosity and retain more givers to discuss with your team.
How it Works
You send me (via secure email) your giving data from your Church Management Software system exported to a CSV or an Excel file and I'll do the rest. It's that simple.
Pricing
The cost for the Church Giving Profile Analysis is $199. The analysis covers the current year plus the prior 3.
You cannot afford to miss out on this valuable analysis. If you retain just one core giver, it will have paid for itself many times over.
For an example of this in action, see this post.
Submit the form below and include your annual budget receipts.